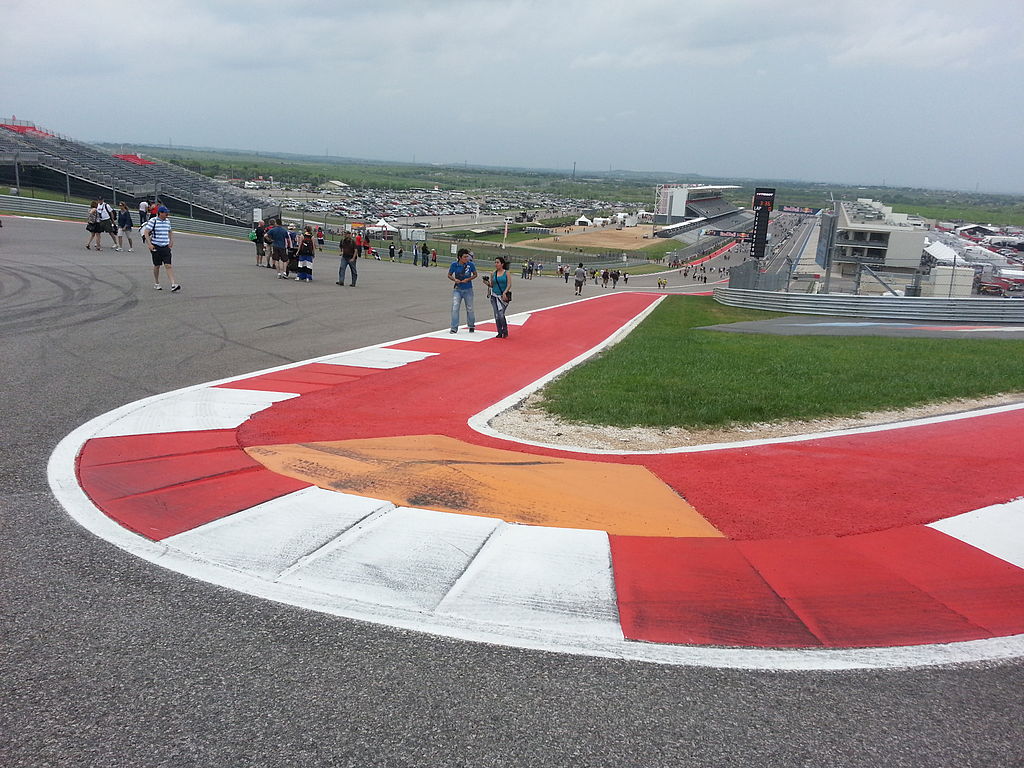 Though the Circuit of the Americas (COTA) track is a mere 15 miles from downtown Austin, it can take up to two hours to get there and park on the days of the Formula 1 races. If you've attended an F1 race before you may have noticed a lot of helicopter activity overhead. Those helicopters are transporting F1 spectators that want to circumvent the traffic and see the sights on their way to the track.
There's no denying that helicopter transport is the most convenient and extravagant way to get to COTA. Making it happen is a little less clear. It's also highly exclusive and must be reserved well in advance. For the inaugural race Charlie Bravo Charter handled helicopter transfers to the track from their exclusive downtown helioport. However, this year helicopter transport can be arranged with a number of aviation and charter services.
Helicopter Pick Up and Drop Off Points for F1
The Austin Aviation Department is in charge of approving permits for temporary helicopter pads within the city limits. In the past these have been restricted to 901 S MoPac and 300 South Congr
ess. Other pick up locations will depend on where the helicopter operators have gotten clearance. Some will be operating out of airports like the Austin Executive Airport on F.M. 969.
The COTA helicopter landing site has six helipads and is located a short distance from Turn 1 of track. Helicopters fly right over the track giving passengers a unique look at the layout that you can't get from the ground.
Rates for Helicopter Transport to and from COTA
Again, this will vary depending on which VIP helicopter transport service you select. If you want to get to COTA by air rather than by road expect to pay $2,000+ for lifts over the three-day weekend. This includes a single ride each way each day.
There are service providers that offer additional add-on flights for those that book F1 weekend transport. Options include flights over COTA, downtown Austin and the Hill Country.
Helicopter Transport Providers
Alamo Helicopters
Alamo Helicopters will be offering transport all three days of the Formula 1 event from their heliopad in downtown Austin. They are offering a selection of three departure times and Alamo Helicopter guarantees that lift off will happen as scheduled.
Optional Departure Times:
8-9am
9-10am
10-11am
Availability is extremely limited so interested parties should follow up immediately to inquire about openings.
Suite Pass
Suite Pass is a local hospitality service that caters to race enthusiasts. As far as F1 weekend is concerned these professionals know how to make sure their clients enjoy the best of the best in every regard. Not only can they help line up VIP helicopter transport to and from COTA, they can also arrange for rentals, tickets and access to the premier events happening all around Austin.
Capital Wings
The high-end aviation charter service Capital Wings began offering services in Austin shortly before the inaugural Formula 1 event, but that didn't stop them from taking advantage of the increased demand. Their Eurocopter EC-120 helicopters were among the first to charter passengers to and from COTA so this year's event will be nothing new for the company. Operating out of the Austin Executive Airport, Capital Wings can provide upscale travel options throughout the F1 event weekend.
Of course you still need transportation to your helicopter. Let Royal Executive Transportation help you arrive at the heliopad in style with personalized limo services. We are known throughout Central Texas for our concierge level of service that begins the moment you call. Our transportation team can help you decide on the best luxury vehicles and handle any special arrangements.
Availability is limited – book your reservation for a luxury limousine, town car or SUV today!
Original Source: https://www.royalaustin.com/formula-1/guide-to-scheduling-austin-helicopter-transport-to-formula-1/