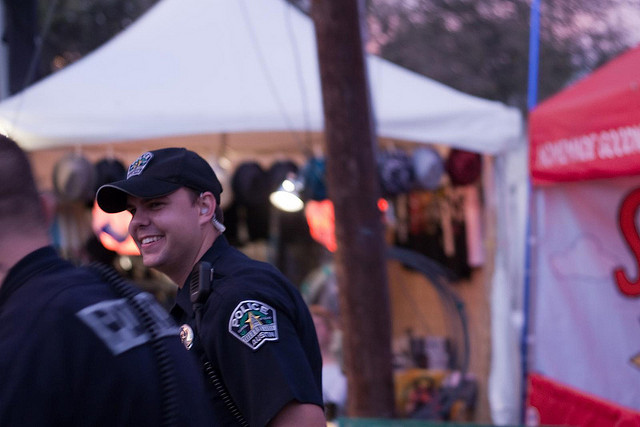 Each year 225,000 people come to Austin to take part in the ACL music festival. All these extra people paired with the festivities puts safety at the forefront. While things typically don't get out of hand, city and festival officials say taking preventative measures is a must to keep things under control and provide a quick response if a problem does occur.
Austin City Limits event planners and promoters understand that they have an obligation to keep the spectators and entertainers as safe as possible during the event, and that takes substantial preparation.
The Austin Police Department Ups the Ante
It's not business as usual when Austin City Limits comes to town. By now the Austin Police Department is well versed in handling festival crowds. The APD, Austin Transportation Department and the Austin Parks and Recreation Department all take steps to increase safety during ACL.
Every year the APD gets together with the event planners and promoters to review how the security measures worked and how they can make improvements the following year. After the 2012 ACL festival special patrol commander William Manno explained that city officials and event promoters talked, "about what did not work … so when we start the planning stage for the next year's event, [we discuss] what was identified, what has been done to mitigate those issues from last year."
During ACL the Austin Police Department will have a special command center set up just outside Zilker Park to quickly handle any problems that arise. Before things kick off the APD Special Events Unit works with ACL event planners and promoters to establish road closures, arrange for VIP escorts and ensure that proper safety measures are being taken. They are an extremely valuable resource for any business or planner that is hosting a special event for ACL.
Stepping Up Security During ACL
The APD Special Events Unit can provide guidance on recommended security measures depending on the type and size of the event. A few common suggestions for ACL events include:
Added security personnel, especially at the entrances and exits of a venue
Bag checks
Contained parking areas and monitoring
Crowd control
Whether you decide to work with the Austin Police Department or a private security company event planners, business owners should be totally upfront about how many people they expect and what will happen during the event. That way you have better assurance that the safety measures are adequate.
ACL Transportation with Added Security
Getting through the crowds and around street closures can make transportation especially tricky during a major event like ACL. Simply getting in and out of a vehicle can turn into an ordeal if you're a celebrity, musician or identifiable figure. Professional transportation services in Austin have an obvious convenience factor, but it's the enhanced security that makes it a must during the ACL festival.
Companies like Royal Executive Transportation employ professional drivers that put the passengers' safety first whether they are driving down the road, finding a covert drop off point or escorting them through a crowd. They are trained to handle crowd control, circumvent issues at a moment's notice and get in and out of the busy ABIA during ACL.
A transportation company can also obtain the proper permits well in advance to provide for access into restricted and transport-only areas. This gives passengers with direct access to the festival grounds and other event venues. Prior to the event the company can work one-on-one with C3 Presents, the production team for ACL, to make special transportation arrangements and determine the best route for getting around the festival.
Is security a real issue during ACL? The answer is yes, but if safety measures are taken beforehand it's less likely to be a problem during the event.
Image Source: flickr.com/photos/alamosbasement/4091569595
Original Source: https://www.royalaustin.com/austin-news-events/is-security-a-real-issue-during-acl/