Royal Executive Transportation wishes everyone a happy holiday! We know for us the holidays wouldn't be complete without a few Christmas traditions like our annual employee party and dinner. Of course, there's also the added holiday services that we always enjoy taking part in, like providing transportation for corporate Christmas parties.
Here are some fun suggestions for your family to try this holiday season.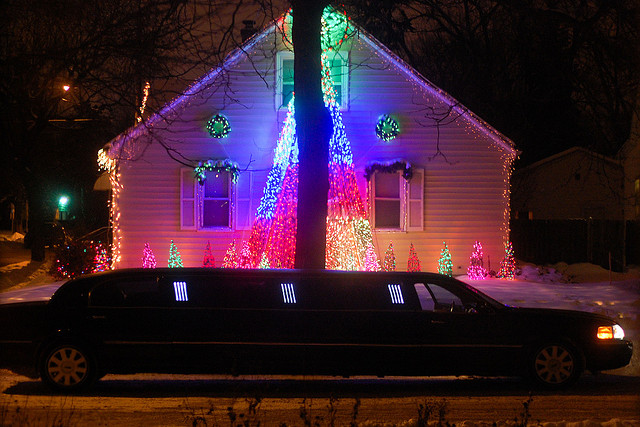 Make a Gingerbread House of Your Home
Forgo the kits and get yourself some gingerbread cookie dough instead. That way, you can use your own home as the inspiration for your gingerbread house. Shape the walls and roof to match your own, then decorate it with your exterior décor. Or you can have fun by creating a model of your home that shows off the inside as well. Leave the roof off and use that dough to create the interior walls that separate each room.
See Christmas Lights in Style
A service that has been in demand is our chauffeured Christmas light car rides. The whole family or a group of friends can enjoy cruising around in a luxury vehicle or limo to see all of the city's best light displays. Our clients have found that this is a lot more safe and convenient, because no one has to miss out while they're driving and there's plenty of room to relax and enjoy a few refreshments.
Pick Out a Family Christmas Movie
Find a holiday film that you haven't yet watched, and make this the first year of many where the family gets together and enjoys it. A few of our favorites are A Christmas Story, How the Grinch Stole Christmas and Love Actually (adults only).
Go Ice Skating
Even though we're in central Texas, ice skating is still possible during Christmas. Both Whole Foods downtown and Barton Creek Spa & Resort have man-made rinks that are just as fun.
Holiday Stories at Bedtime
If you have little ones, bedtime is the perfect time to fit in one last holiday tradition. There are so many Christmas stories, you'll have no problem finding one to read every night in December leading up to the big day.
Take Time to Volunteer as a Family
During the holidays charity organizations are on overdrive and can use all the help they can get. There are many worthy causes to get behind in Austin, most of which accept help from every family member. Pick a date to turn your full attention to others with a day of volunteer work.
Stress-Free Christmas Shopping
Another tradition worth trying is chauffeured Christmas shopping. After a few clients tried it out and loved the more relaxed experience, we now make it one of our regular holiday services. Get a group of friends together to hit the Domain or one of the outlets and never worry about the traffic, fighting for a parking spot, or lugging packages around. You can even take a break between stores to have a refreshment, or just get out of the holiday shopping madness.
Have an Indoor Holiday Camp Out
After the tree is up, it's the perfect opportunity to have a family camp out. Roll out the sleeping bags in the living room, read holiday stories, and make hot dogs and s'mores. If you have a fireplace, that's just one more way to add to the ambiance.
Make Christmas Treats for Your Local Emergency Personnel
Show your local firemen, police officers and EMT workers that you care with homemade goodies. These hardworking community members often have to work through the holidays, so it's a special treat they are sure to appreciate.
Create a Christmas Scavenger Hunt
Instead of just putting everything under the tree, make things more fun with a scavenger hunt. Start it off by giving your kids or spouse the first clue when they wake up. Put a clue with each present, leading them finally to the "big" present at the end.
Write Christmas Letters to Others
It's easy to forget that not everyone is spending the holidays with loved ones. Soldiers overseas and senior citizens are often on their own on Christmas day, but this year you can start a family tradition that sends them a little something. Get your kids to write up a card and put together a care package. Connect with organizations like Soldiers' Angels or Any Soldier to get your gift to a soldier.
Image Source: www.flickr.com/photos/s4xton/2092777130
Original Source: https://www.royalaustin.com/family-adventures/royal-executive-transportation-christmas-traditions-to-make-your-own