Is just thinking about cooking this holiday already getting you stressed? Are you admittedly not the world's greatest chef? Instead of slaving away in the kitchen all day, give yourself the gift of relaxation on Christmas Eve. Hire a driver to take you and your family to one of these great Austin eateries to dine in style.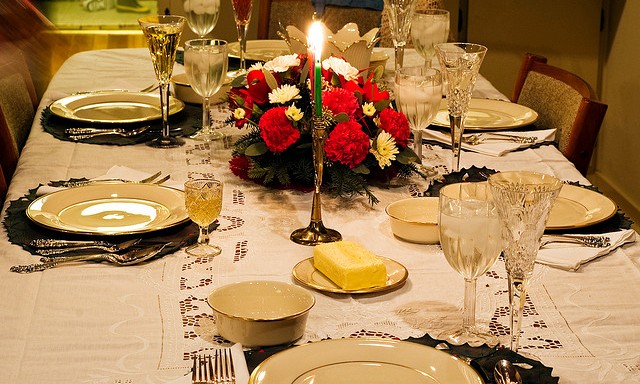 Trace – A Home Away from Home with a Much Better Menu
Using a farm to table approach, the cuisine at Trace offers the freshness of just-picked vegetables and meats that are whipped up with the delectable touch of a culinary expert. The Trace chefs are all about using sustainable ingredients and opting for locally produced food whenever possible. What diners get is an edible Austin experience.
Trace will be open on Christmas Eve from 3 p.m. to 9 p.m., serving a four-course prix fixe menu. This year's cuisine will include:
Lobster Bisque
Argula and Endive Salad
Chestnut and Foie Gras Risotto
Roast Lockhart Quail
Herb Roasted Turkey
Whole Roasted Dry-Aged Prime Rib
They also have a private dining room if you want to put together a holiday dinner party for an entire group. The intimate dining space can fit up to 20 people for either lunch or dinner. They even have audio/visual packages if you want to entertain guests with a slideshow or holiday movie during dinner.
Hudson's on the Bend
The hill country west of Austin offers the perfect setting for homegrown vegetables and wild game, which is exactly what you'll enjoy at Hudson's on the Bend. Chef and owner Jeffery Harrison Blank has had his sauces featured in the Texas Parks and Wildlife Christmas catalog, so there's a good chance he knows how to cook up a memorable holiday menu. Said menu has not yet been published, but if it's anything like the Thanksgiving one it will include wood smoked Angus prime rib, a variety of risottos, fresh tossed salads and smoked wild turkey.
Beyond the food, which includes seasonal fare made with local ingredients, Hudson's on the Bend offers a picturesque setting. The restaurant itself is a restored rock ranch house surrounded by herb, flower and vegetable gardens. Inside, patrons eat in a relaxed dining area surrounded by an amazing art collection.
Bucca di Beppo
Italian connoisseurs, Bucca de Beppo, are going for the most holiday-friendly restaurant in the city. Even on Christmas Eve they'll be open and offering up delizioso Italian fare for intimate tables of two all the way up to banquet holiday parties. Just as during Thanksgiving, Buca di Beppo will be serving their own version of holiday favorites, along with their staple pasta dishes.
Buca di Beppo can serve up family-style holiday dishes for parties of 20 or more in uniquely-themed dining rooms. They can also cater events if you want to have Christmas Eve dinner at home, but don't want to dirty up the kitchen. In addition to pans full of mouth-watering Italian holiday fare, they bring tablecloths, plates, utensils and napkins – everything you need for an easy holiday dinner.
Image Source: www.flickr.com/photos/carbonnyc/3191752970
Original Source: https://www.royalaustin.com/austin-news-events/where-to-eat-in-austin-this-christmas-eve