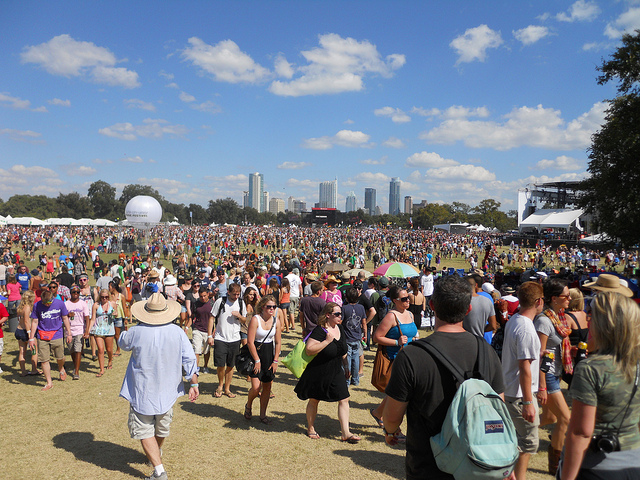 An estimated 115,000 people were in Austin for ACL last year and thousands of locals also took part in the festivities, but who is in the audience? This is exactly what businesses, event planners and media pros want to know so they can tap into the ACL audience and capture their attention. It was estimated that in 2012 alone ACL brought in roughly $102 million. Getting a piece of that pie is all about knowing who you're trying to reach.
Stats on Austin City Limits Attendees
ACL has ballooned over the last 13 years, and it's now a mecca for young and hip music lovers around the country. When it comes to exactly where ACL attendees live C3 Presents has said:
About half are from Austin
Around a third are from other areas of Texas
And the remainder are from out of state
Number of tickets sold last year: around 75,000 per day
Number of bands people will be watching: 140+ over two weekends
The attendees are fans from all walks of life, and some people even bring their kids. However, the audiences of ACL after parties are going to be much more singular depending on the venue and musical act. Overall the festival goers are going to be younger people in their 20s and 30s that are looking to have a good time for a few days.
Austinites in the Audience
As residents of the Live Music Capital of the World, locals will most certainly be out in droves during ACL. They make up roughly half of the festival goers and some Austinites may even go both weekends to make sure they see it all. Businesses and event planners can't go wrong by targeting the local demographic during ACL.
Playing up the local aspect of a business or band will go a long way with Austinites as will social and eco conscious messages. It's a well-educated community of people that likes fine food out of a trailer and often ditches the gym for working out with Mother Nature. Keep it weird with the local mindset in mind, and you're sure to get a response.
The Influence of the Lineup

Many ACL festival goers get their tickets before they even know who is performing. These are the diehard music fans and locals. But then there are the people who wait to see who's going to be playing before they commit to getting a ticket. For that reason it's best to carefully review the ACL lineup.
This year there are a notable number of big names from the late 1990s and early 2000s, which will likely bring out a slightly older crowd for the headline events.
Transportation is the Biggest Challenge for Everyone
Transportation serves as a unique opportunity to capture people's attention during ACL. With thousands of additional people in a city that struggles to keep up with regular population needs getting around will be at the forefront of people's minds. Chauffeured black car service, public transit, taxies, bikes and pedicabs will be out in full force.
All these could prove to be amazing marketing means, and hiring a professional transportation service for personal use will make a huge impression if you have clients and potential customers that you're wining and dining for the weekend. From the moment people step out of Austin Bergstrom International Airport the transportation frenzy begins so make the most of it.
Contact Royal Executive Transportation to learn more about hiring an upscale, reliable black car service during either ACL weekend.
Image Source: flickr.com/photos/jon_roberts
Original Source: https://www.royalaustin.com/austin-red-carpet/understanding-audience-acl/