Going on a first date can be nerve-racking at best. In fact, Men's Health reveals that one of the most common first date fears is when a woman wonders why a man chose a particular date location. Does a casual date like an ice cream shop mean that he isn't interested? Does a formal date at a fine dining restaurant mean that he's coming on too strong?
Yes, a first date is all about location, location, location. If you want to send the right signal and make a good first impression at the same time, it helps to think outside of the box. Starting with front row seats at a local Texas roller derby… Come again?
Texas Rollergirls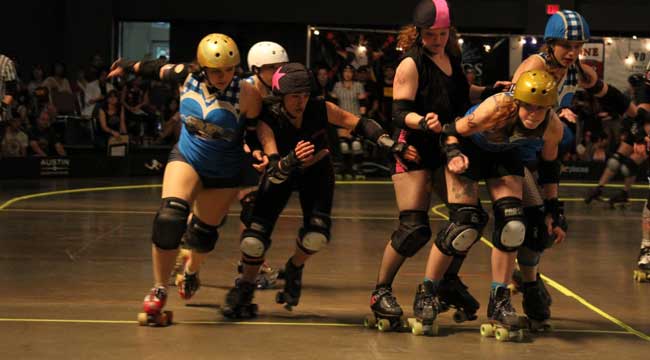 The local roller derby based in Austin, Texas, is known as Texas Rollergirls. To set the tone for a fun, interactive first date without all the pressure, going to a Texas roller derby will definitely give you something to talk about. And if you happen to be a man planning a first date, going to a women's roller derby is an excellent way to show your support for the female gender, revealing your softer side.
On top of that, Texas Rollergirls tickets are affordable for a first date at roughly $10-$22 for a single night. With a student or military discount, tickets are $10, general admission is $12, and VIP tickets are $22.
Splurging for two VIP seats will get you a little something special on your big roller derby date. You'll receive:
Early admission to the bouting arena a half-hour before other ticket holders.
Special VIP seating with chairs right behind the crash bumpers on the track.
Visits from skaters each bout to meet all the fine roller derby ladies in the flesh.
A special date to the Texas roller derby wouldn't be complete without a limo ride to and from the venue. To make it easy to enjoy a few adult beverages without having to worry about driving home – and to make an excellent impression on your first date – book a limo or town car in advance to pick you up before the derby begins.
You can make or break the success of your first date by putting effort into not only the location that you choose, but the impression that you make. Planning all these little details in advance with a creative first date idea will be sure to knock your date's socks off and increase your chance of scoring date number two.