If you're a serious shopper you've probably heard of The Domain, Austin's premier retail destination. This much-hyped urban mixed-use area has grown to an impressive 1.3 million square feet of restaurant and retail space that houses more than 40 stores. But they aren't done building yet.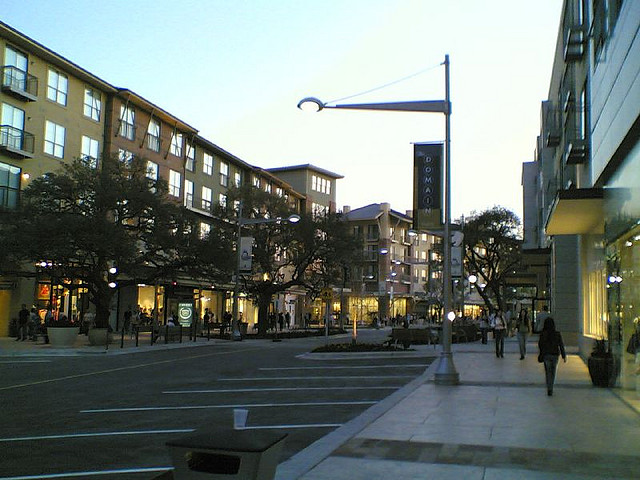 If you and a few friends are planning a day of retail therapy, rather than hoofing it around turn the shopping extravaganza into a special event by hiring an Austin car service. You won't have to worry about parking, can comfortably wear your highest heels and even partake in a few refreshments while you go from one location to the next.
The Lay of the Land at The Domain
The Domain is an open-air shopping plaza that's pedestrian-friendly. However, as the Domain has grown it's become increasingly more important to make sure streets are woven throughout and there's enough parking to accommodate shoppers. To date the first two phases of the Domain have been completed.
The Domain – Phase I
Phase I of The Domain is a 57-acre space that's home to the heart of the shopping plaza – the Main Street center. Here you'll find the shops and restaurants that were first established including a high-end Westin Hotel for out of town guests.
Shop.
H&M
Macy's
Coach
Burberry
Tiffany & Co.
Micheal Kors
Anthropologie
Neiman Marcus
Juicy Couture
Victoria's Secret
Barneys CO-OP
White House Black Market
Hatbox: A Modern Haberdashery
Eat.
NoRTH
Daily Grill
Kona Grill
Cru – A Wine Bar
Gloria's Restaurant
California Pizza Kitchen
Austin Cake Ball Kitchen & Bar
Pamper.
Origins
Spa Reveil
L'Occitane
Luxe Apothetique
MAC Cosmetics
The Domain – Phase II
The Domain II, as the second phase is known, is a 45-acre space that was completed in 2012. It's comprised of 350,000 square feet of retail and restaurant space as well as an iPic movie theater and other entertainment options.
Shop.
Dillard's
Express
The Limited
Southern Thread
Charming Charlie
American Eagle Outfitters
Eat.
Sushi Zushi
Maggiano's
Yogurt Planet
Coffee Bean & Tea Leaf
Pamper.
Blo Blow Dry Bar
Dolce Blu Eyelash Studio
The Salon at The Domain
Bath & Body Works
Bella Nail Salon
Perfume Palace
If that still isn't enough to quench your retail thirst, don't worry. The Domain is only about 20% complete and new stores are being added all the time. When it's fully built out there will be an astounding 8 million square feet of shopping space. So sit back, relax and enjoy a day of shopping at The Domain.
Original Source: https://www.royalaustin.com/what-to-do-in-austin/destination-shopping-at-the-domain-limo-style/