Wedding celebrations come with expected festivities – popping open bottles of champagne, dancing the night away and, of course, riding around in a limo. No celebration is complete without decorations.
Just like the wedding venue, reception hall and bridal suite, the wedding limo is a place where the décor can set the mood and bring the festivities to life. However, decorating a limo comes with a different set of rules. Here's our list of decorating do's and don'ts that will ensure the wedding limo is dressed up without getting messed up.
DO Ask the Limo Company About Decorating
At the end of the day the limo has to go back to the transportation company. The last thing you want to do is cost the bride and groom extra money by breaking the contract. Ask the limo company about the guidelines for decorating so you don't break any rules.
DO Clean It Up Best You Can
You don't have to take the limo through a car wash, but removing decorations, balloons, etc. before the end of the night will be appreciated by the limo company.
DO Use Window Decals
Window decals are highly recommended by limo companies because they are easy to put on, easy to get off and don't cause any damage to the vehicle.
DON'T Use Tape on the Windows
This is quite possibly the biggest limo decorating faux pas you can commit. When tape is used on windows it often leaves behind a sticky residue that is difficult to get off. If the decorations are taped to the inside of the windows it can also damage the tint.
DON'T Use Decorations with Dyes
Many wedding limos are white on the exterior and interior. During the hot summer months especially, dyes from markers, paints, etc., could transfer to the surfaces of the limo and cause damage.
DON'T Decorate the Front of the Limo
Decorations up front can obstruct the limo driver's vision and cause distractions that could lead to an accident. Keep all decorations on the back half of the limo and use short strings on helium balloons.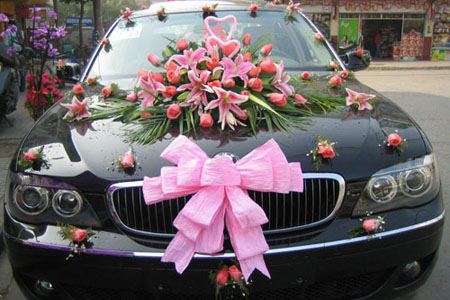 If you let the Austin limo company know your decorating plans in advance there's a good chance they'll be more than happy to help you out by having the supplies ready to go and lending a hand during the decorating. Royal Executive Transportation has whisked many brides and grooms around on their wedding day. The team is more than happy to help you put together a decorating plan and get everything together before the big day.
Image Source: payalflowers.bizporto.com; perfect-wedding-day.com
Original Source: https://www.royalaustin.com/wedded-bliss/the-dos-and-dont-of-decorating-a-wedding-limo