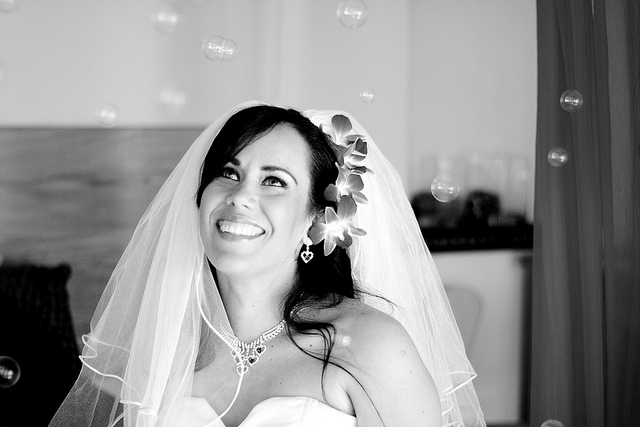 Long after your wedding day has come and gone there will still be photos and videos to remember the special occasion. The last thing many brides, grooms, family and wedding party members want to be reminded of is how sub-par their smile was on the special day.
Dentists, like Dr. Cindy Flanagan, DDS, are seeing more and more people come in close to the wedding date to get their teeth cleaned and/or whitened. Glistening, straight smiles are particularly important to the brides and grooms that will be sending out save the date cards, putting their pictures up on a wedding website and participating a lot of parties. With this in mind, Dr. Flanagan says couples should start planning much farther in advance, "to get the best results with aesthetic procedures, they should plan a visit six months before their wedding to ensure that they can accomplish whatever they would like."If you plan to take engagement photos you'll need to move that deadline up even further.
Since 96% of engagements are seven months or longer there's plenty of time to get dental work and whitening penciled into the pre-wedding schedule.
Most Popular Wedding Dentistry Cosmetic Procedures
There are a lot of ways to perk up a smile, some of which only take a single visit to the dentist while others require weeks or months of treatments.
Teeth Whitening
When to Schedule: Days to Months Before Pictures of the Wedding
According to the American Academy of Cosmetic Dentistry teeth whitening is by far the most requested cosmetic dental treatment, particularly before a wedding. Brides, grooms and people in the wedding party all take extra steps to make sure they have the whitest smile possible for all the pictures.
Today there are many different procedures for whitening teeth, including in-home and in-office treatments.
Veneers
When to Schedule: 2-3 Months Before Pictures or the Wedding
Getting a perfectly straight, pearly white smile in only few visits to the dentist is possible thanks to veneers. Dr. Kevin B. Sands, DDS a cosmetic dentist in Beverly Hills, CA notes that veneers are the second most popular pre-wedding treatment in his office. It's one of the simplest and quickest ways to fix chipped teeth, gaps, unevenness and discoloration. For brides and grooms that are looking to fix more than one enamel issue veneers could be the ideal solution.
The procedure requires an initial visit to the dentist to get fitted for custom-made porcelain or composite shells that are bonded to the teeth permanently. The dentist will make a mold of your teeth, which will be used to create the custom veneers. During the follow up visit the dentist will do a fitting then buff away a thin layer of your teeth to ensure that the veneers bond properly. Once bonded the veneers should provide a permanent perfect smile. However, it should be noted that color selection of the veneers is important, because they cannot be whitened.
Invisalign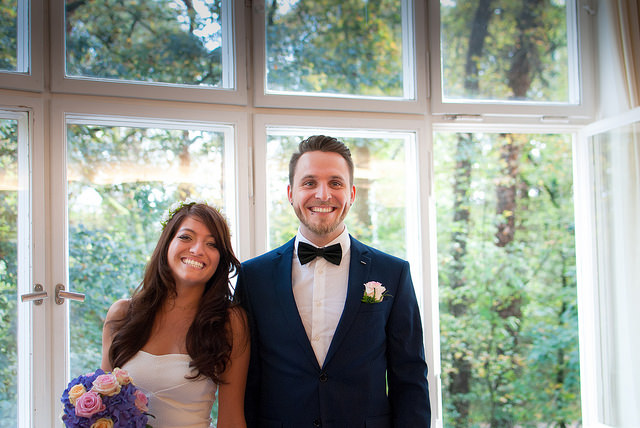 When to Schedule: 4-12 Months Before Pictures or the Wedding
Most people don't want to go through the discomfort of traditional braces, and even fewer people want to flash a metal mouth. Invisalign has revolutionized teeth straightening by replacing the wires and brackets with clear, thermoplastic aligners. A series of custom-made aligners are designed to move teeth in a certain sequence. Every two weeks you'll use a new aligner to shift the teeth little by little using controlled force.
Simple fixes typically take about 4-6 months where more complex issues can take anywhere from 9-12 months. Severe cases may take a little while longer. Invisalign Express is the system used to treat minor issues that require 10 or less aligners.
Invisalign typically corrects teeth alignment quicker than braces, but patients have to be diligent about wearing the aligners virtually all day long (at least 22 hours). Dr. Flanagan adds that while most people are good candidates for the procedure, there are a few problems that it can't correct. In most cases Invisalign can be used when overcrowding, gaps, overbites, underbites or crossbites are the cause of the problem.
Bonds
When to Schedule: 3-6 Weeks Before Pictures or the Wedding
Dental bonding is used to correct a number of small problems in a single visit. It can be used to improve uneven, chipped or overlapping teeth, and it can give tiny teeth a little more length by way of tooth-colored composite filler. The filler is applied directly to the tooth and permanently bonded to the enamel, however it can become discolored and can't be whitened.
Typically you'll need a couple visits to the dentist to achieve a perfect smile with bonding.
Contouring
When to Schedule: 3-6 Weeks Before Pictures or the Wedding
When teeth are uneven, chipped or a little rough a dentist can perform what's known as tooth contouring. During the procedure they will gently shave down the tooth to give the patient a more uniform smile. By the end of the appointment teeth will be more even and photo-friendly.
Dental Crowns
When to Schedule: 2-4 Months Before Pictures or the Wedding
Is there just one problem tooth that needs fixing? A dental crown could be the best solution if you have a broken or cracked tooth. Because there are different types of dental crowns you'll need to discuss all your cosmetic and functionality concerns with your dentist to make sure the best option is used.
Wedding Day Teeth Whitening Countdown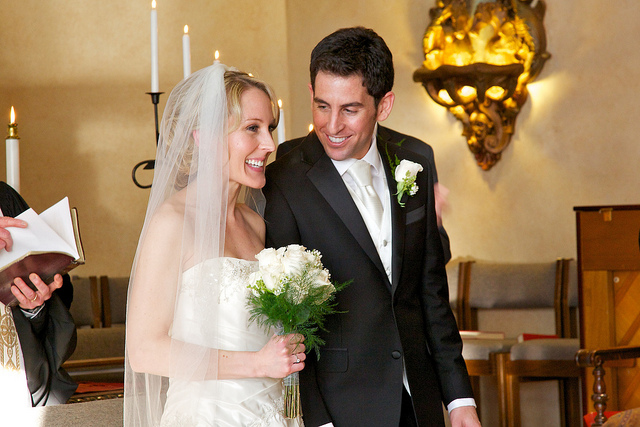 When it comes to your teeth the term "white wedding" can take on a whole new meaning. Today there are more teeth whitening options than ever for removing stains that come with age and daily use. So which one do you choose? Dr. Flanagan notes, "the type of whitening will depend on how much time you have before the big event. Fortunately, there are a lot of choices to meet just about every situation."
Whitening Strips
When to Start: 1 Month or More Before Pictures or the Wedding
These sticky strips have a thin layer of whitening gel that over time can whiten and brighten teeth by a few shades. Lay them directly over the top and lower teeth being careful to get them into the grooves and not on the gums, which can be damaged by the bleach.
A good option if you want to go this route is Crest 3D White Advanced Seal 1-Hour Express Whitestrips. To keep your smile white you'll need to avoid foods and beverages that stain like tea, coffee, blueberries and tomato sauce.
Whitening Toothpaste
When to Start: As Soon as Possible and Continue Through the Wedding
A whitening toothpaste works by removing surface stains. This is a solution for people who have light staining from things like coffee or red wine and want to keep the issue from getting worse. Some of the best options on the market right now include Colgate Optic White Dual Action Toothpaste and Crest 3D White Luxe Toothpaste.
Used with the strips it could be an effective combination to make teeth a few shades whiter. However, you will have to avoid things that stain in order to maintain the lighter shade.
Professional Take-Home Whitening Kit
When to Start: 2-3 Weeks Before Pictures or the Wedding
If you want to DIY your brightened smile dentists offer professional grade take-home whitening kits. You'll get a custom tray and pro level whitening gel that will need to be worn for a specific amount of time each day to get a brighter smile within a couple weeks.
Zoom! Advanced Power  
When to Start: 1 Week Before Pictures or the Wedding
There are a lot of benefits to choosing an in-office Zoom! teeth whitening treatment and if you only have a week or so before the big day it's going to be the only option. It's the in-office whitener of choice for Dr. Flanagan and many other dentists across the country. In a single, one-hour office visit the dentist can use whitening gel, custom trays and blue plasma light to get teeth up to 10 shades whiter.
Unlike some whitening options the Zoom! Advanced Power system treats both upper and lower teeth. Many dentists recommend that patients use the take-home maintenance kit as a follow up for the whitest smile possible. You can have the in-office treatment done just days before the wedding or pictures, but it's best to have the treatment done at least a week in advance in case there is any sensitivity.
"You can never go wrong with perking up your smile," says Dr. Flanagan. It's a sentiment that people, especially brides and grooms, agree with wholeheartedly. Luckily, getting a megawatt smile before your wedding day is one of the easiest things to plan and prepare for on your checklist.
Resources:
http://blog.weddingpaperdivas.com/the-road-to-wedding-bliss-infographic/
http://www.aacd.com/whitewedding
http://www.smilesofbeverlyhills.com/cosmetic-dentistry/top-3-pre-wedding-dental-procedures/
Image Sources:
flickr.com/photos/edith_soto
flickr.com/photos/sgt_spanky
flickr.com/photos/29898978@N02
Original Source:  https://www.royalaustin.com/wedded-bliss/checklist-getting-perfect-pre-wedding-smile/