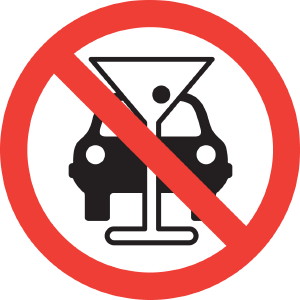 One of the most insensitive and stupid things to do on New Year's Eve is to go to an Alcoholics Anonymous 5 o'clock meeting, scoping out someone you could hire to be a designated driver for your partying ways. If you plan on swearing-off the stuff as your resolution, the last people you want to upset are the local AA chapter.

Another bad plan? Check out this article from the CBS affiliate in Sacramento, California:

"Police say the parents were drunk and wanted alcohol, but not a DUI. They're accused of forcing their 14-year-old son to chauffer their beer run. That's when the teen, with his parents in the car, drove into a DUI and license checkpoint on Frankling Blvd. and Florin Rd. where he was stopped. The parents were not arrested, but were cited for allowing an unlicensed driver behind the wheel."

Or this one on the Hollywood Life website

"The baby-faced boozer was stopped and arrested after he failed a roadside breathalyzer test. Police were stunned when they discovered his true age (9-years old), and had to let him walk free — because under UK law he's too young to be held responsible for his actions. Newly released police records reveal this is just the latest in a spate of car-related crimes committed by very-young offenders in England over the past two years."

See, drunk driving – whether by sober American teens or smashed 9-year old British kids – have no boundaries. Sheesh.

The Correct Way to do Things

Since New Year's Eve is within sneezing distance, you're probably going to relieve some beer taps of the pressures beneath or help empty a kegerator as part of the celebration. Nothing wrong with that as long as you pass-out on your side. No need to do a John Bonham and choke-up in your own chuck.

Actually, why not take the route of moderation. That way you may actually remember who you kissed at the crack of the New Year.

A clear-headed thought: Every 50-minutes someone uses a car to blow their brains-out. With that in mind, some safety tips to keep you around to booze-it-up another day (unless you plan to visit AA on the first of January).

• Hosting a New Year's Eve party? Line up the following:

o Prepare a room or two with some blow-up mattresses, sheets and blankets. That way the overindulgent can sleep it off in your house rather than the county jail, the hospital or the morgue.
o About an hour before the party comes to a close – like 1 AM – announce last call.
o Right after midnight, serve the first breakfast of the New Year. Because of the salt in bacon, that should be a must. Why? Sodium helps rebalance a drunk's electrolytes.
o During the evening, put out plates of finger food, cold cuts and other munchies so they can mix their alcohol with digestibles.
o Have a local cab company (or two) phone numbers for safe rides home.
o Serve non-alcoholic stuff, too. Water, soda, coffee, juice – things like that.


• Going with a bunch of buddies? Designate a driver that won't imbibe. Not even one drink. They must stay sober until the last clown leaves the Volkswagen.


• Since you plan to hang with a small crowd on your way to the soiree, stick around together. The more folks that are on the same virtual page, the less likely any one of the group will get into a fight because he doesn't like the cut of a stranger's jib.


• Hate hangovers the next day? Do this: Drink some wacky stuff, then a glass of water. Repeat all night. By staying hydrated, you're less likely to wake-up with some imaginary pucker-hole smacking you on the head every 23-seconds.


• There's always going to be a couple of lushes in the crowd. Play a little game with them called "compare our fobs." Take-out your set. Have them pull theirs from their pocket. Once you have their key chain and car fob in your hands, point in the opposite direction saying, "look who just walked into the room." As they turn to look, run away and hide their keys.


• If you plan to spend a nice quiet New Year's Eve at home watching re-runs of Dick Clark counting down the ball dropping from Times Square during the 80's, don't drive between the hours of 8 PM-to-2 AM. That's when the most accidents happen.

Lastly, here's one of the funniest bits you'll ever see that has to do with drinking. Thank you, Larry Miller!