When the SXSW Film portion was officially conceived in 1994, the goal was to "provide a forum for new voices in filmmaking, a community where filmmakers can celebrate and support one another, and a source of discovery for the future of film." The SXSW Film Festival has come to be known as the place for finding new talent with unique voices, but it's also grown into a mainstream event where major films premiere.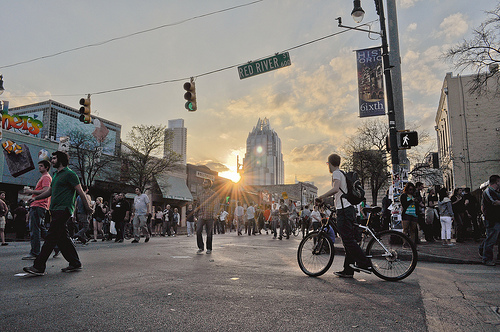 No two years are ever alike, but the SXSW Film Fest is always a time for film lovers to share their passion and learn from each other, no matter what their experience level is. This year promises to deliver one of the best festivals yet.
Need to Know Info About the 2014 SXSW Film Festival
The Film portion takes place right in the middle of SXSW straddling both the Interactive and Music portions, so get ready for a lot of activity.
When: March 7-15
Where: Venues around Austin include the Austin Convention Center, The Long Center, The Palmer Event Center and The Driskill Hotel
What to Watch During the 2014 SXSW Film Festival
Tons of films, including eight world premieres, will be screened during the 2014 SXSW Film Fest. Here are just a few cinema screenings we recommend.
Chef – World Premiere
Joe – U.S. Premiere
Neighbors – Work-in-progress World Debut
Veronica Mars – World Premiere
Caesar Chavez – North American Premiere
Who to Look for During the 2014 SXSW Film Festival
It's no secret that celebs and filmmakers love to visit Austin any chance they get. The 2014 SXSW Film Festival is the perfect excuse for these well-known faces of film to swing through the capital of Texas. Here are a few to keep an eye out for:
Dustin Hoffman
Emmy Rossum
Ethan Hawke
Jason Bateman
John Leguizamo
John Malkovich
Jon Favreau
Kristen Bell
Lisa Kudrow
Mike Meyers
Nicolas Cage
Robert Downey, Jr.
Robert Duvall
Rosario Dawson
Rose Byrne
Scarlett Johansson
Seth Rogen
Sofia Vergara
Tilda Swinton
Zac Efron
Events to Enjoy During the 2014 SXSW Film Festival
The SXSW Film Festival isn't simply a passive viewing experience. It's all about diving into the entire process of filmmaking.
Film Awards
During the film awards, a special jury will announce the films and individuals they are honoring this year. Awards categories range from Excellence in Poster and Title Design to Best Short Film in each genre, which qualifies the films for Oscar consideration.
When: Tuesday, March 11th at 8 p.m.
Where: Paramount Theater
Mentor Program One-on-One Meetings
Getting to participate in the SXSW Mentor Program is possibly the most rewarding part of the festival for filmmakers that are starting out or trying to take their career to the next level.
Trade Show
The four-day Industry Trade Show is a great way to get hands on and learn about up-and-coming products that have the potential to change the way films are made and marketed. It's definitely a must for tech-lovers that want to see the latest innovations in new media.
Discussion Panels
Get insight from the industry pros during a series of over 200 discussion panels that cover every facet of film. This year's panelists include Mark Webb, director of Spiderman, visual artist Ralph Steadman and actor Jason Bateman.
During the festival you can use the new SXSW bike share program SXCycles to get around, or Royal Executive Transportation can give you a lift. You'll skip the frustration of fighting traffic and can relax in a spacious backseat on your way to the convention center, downtown theaters or a red carpet event.
Image Source: www.flickr.com/photos/daverugby83
Original Source: https://www.royalaustin.com/austin-news-events/sxsw-film-festival-2014-highlights