Ah, Valentine's Day. The day you show your one and only just how much they mean to you. In Austin, a city of many styles, that could mean a leisurely stroll through one of our many parks, catching an indie rock show or taking in the glittering skyline off a downtown balcony while sipping on champagne.
It's fast approaching, which means you've got some decisions to make. Even if your significant other said you don't have to do anything special, giving them a day to remember is always a good idea.
Romantic Austin Restaurants
For Locally Sourced Fare – Eastside Showroom
At Eastside Showroom the food is always crafted from locally-grown, sustainably-raised ingredients. Don't expect a set menu here. It's always changing to reflect what is fresh for the season, which means the delicacies that are whipped up for Valentine's will be perfect of the holiday.
For the Ultra Exclusive – Restaurant Jezebel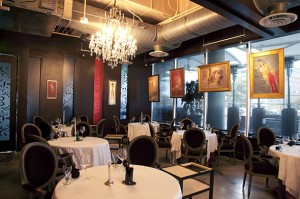 With only 8 tables and 'Couture Dining', Restaurant Jezebel is maximizing intimacy this Valentines rather than their seating, as other restaurants so often do. Using their unique 'Jezebel Interview Process', the five-course meal will be tailored to your individual tastes, making each dinner truly one-of-a-kind.
For Dinner and Drinks – NXNW Restaurant and Brewery
Valentine's Day gives NXNW the opportunity to brew up something special. In the past NXNW has served up a sweet Barton Kriek Lambic-style beer, a four-course Valentine's dinner and entertainment from Texas' official state musician Sara Hickman.
For a Table with a View – The Oasis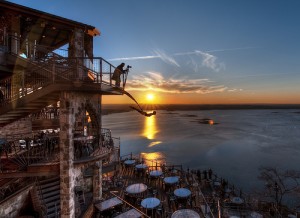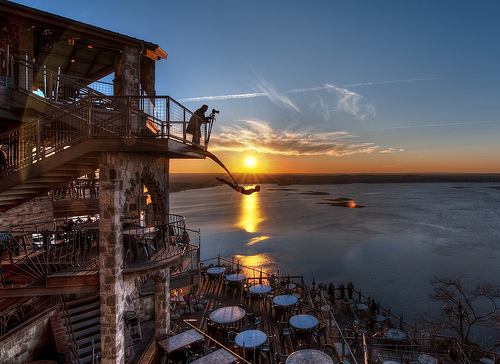 Home to arguably the most spectacular views in Austin, The Oasis is the restaurant of choice if you'd like to look at more than just your fellow patrons during dinner. Seating both indoors and out offers panoramic views of Lake Travis and the surrounding hill country, turning sunset into a spectacular show.
For a Decadent Dessert –EnotecaVespaio
Keep a great Valentine's Day date going with after dinner espresso and dessert at EnotecaVespaio. Pastry chef Sandi Reinlieplans to add special Valentine's Day treats, like dark chocolate truffle tort with Amarena cherries, to Enoteca's already famously mouth-watering dessert menu.
Picturesque Outdoor Places
Tucked away on the North side of Lady Bird Lake are a few small, square docks with some of the best views in Austin.  It's the perfect spot for a romantic Valentine's picnic. Get there early in the afternoon to stake out your territory and set up. Then sit back, sip on a beverage, and look to the West to catch sight of a beautiful sunset over the Congress Street bridge.
Below are a few more outdoor areas to visit during Valentine's Day:
ZilkerBotanical Gardens
Mount Bonnell
Umlauf Sculpture Garden
Austintatious Valentines Adventures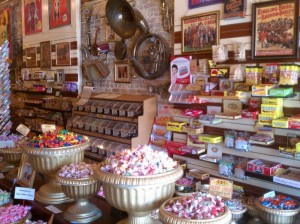 Swing by Big Top Candy Shop to surprise your sweetie with old-timey sweets. This one-of-a-kind candy shop will take you back to your childhood no matter when you were a kid. Colorful candies from decades past line just about every inch of the walls. It's enough to make anyone with a sweet tooth go comatose.Big Top also offers hand-made treats like fudge, truffles and even chocolate-covered bacon.So ditch the played out box of chocolates, and opt for a more unique sugar-laced gift, or make Big Top one of your Valentine's Day stops.
More uniquely Austin spots and events to hit up on Valentine's Day:
Alamo Drafthouse Valentine's Feast
Bob Schneider and The Moonlight Orchestra at ACL Live at the Moody Theater
Team Perla's Greenbelt Ride –intense 18 mile bike ride at 8:30am
Need to convert an anti-Valentine's Day date? Then don't just settle for one of the suggestions above. Reserve a limo with a chauffeur service in Austin and make a day of it touring all around town in style. An afternoon outdoors, followed by dinner and drinks, then a sweet stop before the end of the night and they'll forget they ever called it a Hallmark holiday.