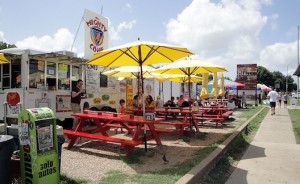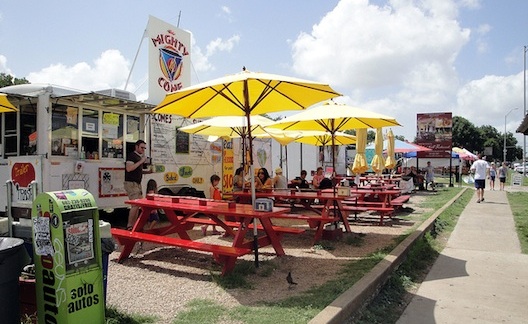 What is a "foodie" exactly? Well, in the wild, weird, and wonderful city of Austin, it's a food lover that is willing to embrace the unexpected in avant-garde cuisine like avocado margaritas, fried chicken gizzards, and even beef tongue burritos.
If you're sick of the same old, same old Tex-Mex food, Austin is the place to be. Austin is full of options in eclectic dining that include ethnic food, health food, and some good, old-fashioned barbecue.
Austin Farmer's Markets
Visitors looking for authentic Austin food can head directly to the Austin Farmer's Market, located at The Triangle on Wednesdays and downtown on Saturdays. Otherwise, Boggy Creek Farm provides a wide selection of organic foods on both Wednesdays and Saturdays.
An Austin farmer's market is hippie culture at its best. Vendors provide fresh, local produce like sun artichokes, leeks, mulberries, and squash blossoms, as well as wildflower honey from local wildflowers.
Experimental foodies can also try kombucha, a fermented tea, made with organic ingredients and available in bottles and on tap. As expected, homemade tamales are readily available, made from nutritious, organic cheeses, peppers, and masa.
Austin Food Artisans
If you're ready to move beyond the farmer's market, you can try a number of interesting, delectable treats that the city has to offer. Austin is home to a long list of breweries that offer authentic Texas beer, like the 512 Brewing Company, Live Oak Brewing Company, and Independence Brewery.
Most natives love to spend a lazy Saturday afternoon touring favorite breweries in the Austin area; as a tip, book an Austin car service in advance for a safe afternoon out with friends without the risk of a DUI.
To soak up a handful of beers, you can head on down to La Mexicana bakery, open 24 hours a day. There you will find authentic Mexican treats like pralines, sugary empanadas, marranitos, and more. And if you're still in the mood for an adult beverage, you can drop by Treaty Oak Rum to sample authentic, handmade rum from Texas ingredients.
Austin Food Trucks
Just when you thought the night was drawing to a close, you spot a food truck with a line wrapping around the corner, well after midnight. Food trucks of all cuisines are a staple of the Austin foodie culture.
Throughout the city, you can taste delicious bites on the street with barbecue from Boss Hogs Kitchen, fusion from Be More Pacific, or cupcakes from Hey Cupcake. Yes, the Austin food truck industry is booming and provides visitors with a quick, cheap way to sample the best eats in the city.
Whether you prefer low-key farmer's markets, bustling artisanal shops, or late-night food trucks, one thing is for sure – Austin is a city that won't disappoint even the pickiest foodie.