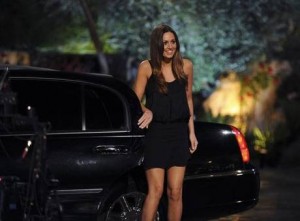 The Bachelor is a hallmark reality TV show that has been on air since 2002. Unless you've been hiding under a rock, you're probably familiar with the dating-style show that focuses on one lucky bachelor and dozens of not-so-lucky women who must compete for his affection.
Bachelor Contestants Ride in Style
If you have watched any type of reality TV in the past, then you know full well how often limos are used for transportation to and from an event, like a special date or ceremony. On The Bachelor, limos play an even bigger role since they are used to escort contestants to and from the show.
Once a contestant has been ousted by not receiving a rose in the infamous rose ceremony, they'll be whisked away into a waiting limo, where they'll be taken to the airport immediately. But the fun doesn't stop there… During the limo ride, the cameras are still rolling to catch every last bit of drama as the contestant screams, cries, or rages about lost love or their unfair treatment on the show.
In other show stopping exit scenes, the limo has served an even bigger purpose as a catalyst for new love, even when contestants are voted off. In a Bachelor spinoff series, The Bachelor Pad, contestant Ames chased after Jackie's limo after she was voted off by her fellow cast mates.
Instead of staying in the competition for $250,000, Ames opted to run after his new love Jackie to pursue their relationship. Although the scenario sounds utterly romantic, the unfortunate news is that their union didn't last long after the show was over.
Bachelor Limos Behind the Scenes
Even though most viewers follow the dramatic interviews in a limo exit on The Bachelor with bated breath, not every juicy detail makes the final cut. In one episode of The Bachelorette, a limo carrying the cast actually collided with a manure truck as it made its way through the country!
In other more memorable limo exit scenes, we see rejected contestants engage in a total meltdown, a la Kacie B crying buckets of tears after being rejected by handsome bachelor Ben. According to Kacie, she had no idea what happened and what caused her to be sent home, when her budding romance appeared to be on the right track.
Whether you're a fan or a critic of The Bachelor, one thing is for sure. The limo exit ride from the show provides some of the juiciest material for compelling reality TV as contestants vent and share their true feelings about their departure.