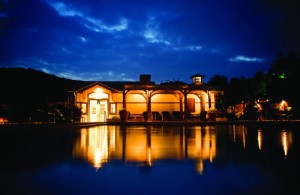 If you're feeling the itch that says you need to get away to unwind and relax with a few good friends, it may be time for a girlfriend's weekend. Yes, a peaceful retreat among good friends may be exactly what the doctor ordered, giving you the opportunity to relieve stress and reconnect with the important people in your life.
If you've been burning the candle at both ends and desperately need a break, consider these interesting ideas for girlfriends' getaways in the greater Austin area:
Lake Austin Resort & Spa: Although it may seem cliché, taking a limo to a nearby resort and spa getaway will provide you with the opportunity for some much-needed pampering and girl time.
The resort includes a spa, pool, Jacuzzi, and fitness center; it was also named the number one destination spot in North America by Condé Nast Traveler. The breathtaking resort is located in the scenic Texas Hill Country with a world-class spa on site, just 40 minutes from the Austin airport.
Blair House Inn: To unplug from technology for the weekend, it may be time to go far, far away to a secluded Bed & Breakfast in the Texas Hill Country. The Blair House Inn could be exactly what you're looking for in a quaint Bed & Breakfast with lodging and fine dining on-site, as well as the opportunity to watch picturesque sunsets every evening.
As a fun activity, you can also take classes at the Cooking School, which has been featured on the Food Network; classes are designed to help build confidence in the kitchen by learning how to buy the freshest seasonal foods available to whip up delicious five-star dishes.
Juniper Hills Farm: Right smack dab in the middle of the Blanco River Valley, you'll find this refreshing retreat – the perfect place to get away from it all. The Hill Country resort offers cabin rentals and features a state-of-the-art cooking school, as well as regular yoga classes.
Ladies can also take advantage of custom-designed retreats for a special girls' weekend, like Ten Lucky People for a group cooking celebration, Random Acts of Cooking for culinary enthusiasts who shun recipes, and even Corporate Retreats with classes for small and large businesses.
Whatever strikes your fancy, make sure to carve out some time to get away with a few special friends to recharge your batteries over the weekend. To make the occasion unforgettable, remember to book a limousine rental in advance to take you to and from your destination!